Description
Folded Gown Dispenser
The Folded Gown Dispenser is wall mountable. Standard sizes are shown below. We can customise to your requirements if necessary.
Fabrication material: stainless steel 304 with electropolished finish.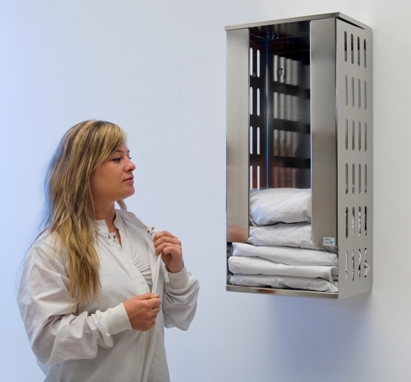 Folded Gown Dispenser
LxWxH (mm)350x250x750
LxWxH (inches)14x10x29.5
Cat.No GD-0301
Folded Gown Dispenser
LxWxH (mm)410x310x750
LxWxH (inches)16x12x30
Cat.No GD-0404
Palbam Class – When Quality Matters
Stainless Steel Cleanroom Furniture & Equipment at attractive prices – delivered directly to your location worldwide. ISO Certified. We believe in quality and know that you do too.
Our high quality design and manufacturing standards ensure you receive the very best stainless steel cleanroom products. We have many Gowning Furniture & Glove Dispensers in stock for quick delivery. Almost all our products are electro-polished, the highest quality finish for stainless steel.
Worldwide Reputation
Palbam Class has a worldwide reputation for supplying all the Cleanroom Industries – Pharma, Biotech, Medical Devices, Microelectronics, Nanotechnology & the list is growing. We have probably the worlds most complete gown-room furniture product line.
Cleanroom Projects
Palbam Class also customizes to your exact requirements and has completed many successful cleanroom furniture projects worldwide. View the company video in the "Resources" section. Cleanroom workstations, gowning rooms, shelving, carts & cabinets. Contact us today with your special requirements. No project is too large or too small.